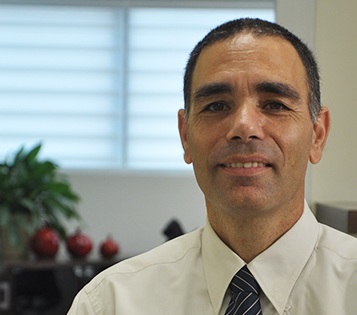 Professional experience:
Joined the firm in 2003 and is currently a partner in the office.
For many years Dr. Dror is advisor to some of the largest industrial corporations, businesses and institutions in the country, in the areas of air pollution, climate change, environmental reports ( to the international Pollutant release and transfer register -  PRTR), odor nuisances, climate change, Bartering of greenhouse gases (according to the international Clean Development Mechanism - CDM), wastewater, hazardous materials, transportation of hazardous materials, marine pollution, desalination , treatment and disposal of sludge, hazardous waste, packaging waste, electronic waste, recycling, packaging, radiation, noise, as well as business licensing, integrated registration, environmental reporting to the stock exchange and environmental management systems (ISO, EMAS).
Dr. Dror possesses a wide practical experience in the supervision and treatment of environmental hazards and in environmental education. He acted as Supervisor of hazardous materials for the Municipal Environmental Association of Western Galilee; as environmental quality engineer for the Kishon River Authority; and as environmental protection tutor while teaching at the Environmental Education Center in " Haifa Real High School ". All along he combines legal practice with practical field implementation. 
Dr. Dror has extensive experience in scientific legal advising and in particular on international environmental law legislation concerning the legislation regarding Chemicals (RoHS, WEEE, REACH, CLP).  He also advises industries and businesses in the field of writing their code of environmental ethics on environmental issues.
In addition to the environmental field, Dr. Dror engaged for years in the field of safety. He holds a certificate from the Ministry of Economy as being in charge of safety at work, and possesses a wide range of knowledge in the domain of ​​safety at work. Within the law office and as part of his practice he has developed the concept of a comprehensive  view on the aspects of environment, health and safety (EHS) .
As part of his practice Dr. Dror deals regularly with ongoing legal management of environmental risks and safety - in particular within internal compliance programs  (" Gap analysis "), in analyzing environmental legal risks, in carrying out of Environmental Due Diligence tests for procedures of mergers and acquisitions both on environmental risks and on safety . He developed a unique practice of providing scientific advice on practical questions related to legal environmental law.
Additionally, he represents industrial corporations and CEOs versus planning authorities (on effluence pumping and discharge permits, ocean dumping permits, business licenses, permits for use of toxins, authorizing orders), in hearings, in administrative proceedings, such as administrative orders to stop work and financial sanctions and civil proceedings, and in various civil, administrative and criminal issues in various areas of environmental and safety law.
 Education:
Graduate (LLB) , the Faculty of Law , University of Haifa ;
Graduate (B.ScAgr) , Faculty of Agriculture in Rehovot Hebrew University of Jerusalem;
Graduate (M.Sc) in environmental science in the Department of Environmental Sciences and Energy Research at the Weizmann Institute of Science.
PhD , awarded by the Porter School of Environmental Studies at Tel Aviv University. The dissertation deals with ethical aspects of global distributive justice arising from the most significant environmental problem that exists today - climate change.
Publications:
Published many articles in the fields of environment and safety.
Dr. Dror contributed the chapter describing the environmental law in Israel to the book " International Environmental Law - The Practitioner's Guide to the Laws of the Planet " (2014) , at the invitation of the American Bar Association.
He published articles on the legal aspects of the regulations of the Labor Supervision Organization (the safety management plan) , - 2013.